Storefront Cleaning For An Attractive Akron Commercial Space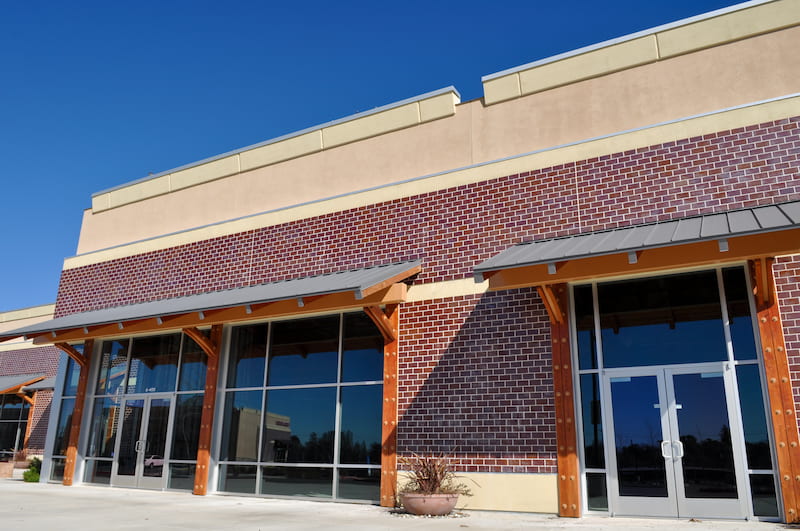 Do you want to make the front of your store look its absolute best? Then we recommend you take advantage of our Akron storefront cleaning services today!
For years, we've offered numerous professional pressure washing services, ranging from graffiti removal, to sidewalk cleaning, and much more. However, on this page, we're strictly going to discuss storefront cleaning. Keep reading to find out more.
Business Facade Washing To Create Enticing Businesses
We understand that the appearance of your business facade is a reflection of your brand and influences how customers perceive your establishment. That's why our business facade washing services are designed to cater to the unique requirements of commercial properties. We go beyond surface-level cleaning to deliver a deep and thorough storefront clean that brings new life to your exterior surfaces.
Regardless of the material your storefront is constructed with, whether it's brick, stone, stucco, or any other type, our team of skilled technicians is well-equipped to handle the task. We have the knowledge and expertise to assess the specific needs of your facade and employ the most effective cleaning techniques and equipment. From intricate architectural details to hard-to-reach corners, every nook and cranny of your business facade will receive meticulous attention to ensure a comprehensive clean.
Retail Property Pressure Washing To Present Your Business Properly
At Tsunami Softwash Pro, we specialize in delivering high-quality pressure washing services for retail properties. We recognize that maintaining a clean and well-maintained exterior is vital to projecting a positive image for your business. Our retail property storefront cleaning services encompass the thorough cleaning of storefronts, signage, windows, awnings, and other exterior surfaces. With our attention to detail and commitment to excellence, we will transform your retail property into a visually appealing space that captures the attention of potential customers.
---
Frequently Asked Storefront Cleaning Questions
Hiring a professional storefront cleaning service offers several advantages over relying on your own staff. Our trained technicians have the expertise, experience, and specialized equipment necessary to handle the unique challenges of storefront cleaning. We can ensure a thorough and efficient cleaning process, reaching areas that may be difficult for regular staff to access. Additionally, by outsourcing the task to professionals, you can free up your own staff's time to focus on core business activities, while enjoying the benefits of a pristine and welcoming storefront.
---
Recent Related Articles
Restoring Buildings With Professional Pressure Washing
Welcome to Tsunami Softwash Pro, your trusted partner in building restoration through professional pressure washing. Over time, buildings can accumulate dirt, grime, mold, and other unsightly contaminants, diminishing their appearance and even causing structural damage. Take a look below as we explore the transformative power of […]
Read More
Wash Away The Grime With Our Akron Pressure Washing Experts
Give Us A Call Today!